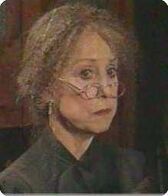 Una Stubbs was born 1st May, 1937 in London. She is an English actress who played Caroline Bishop in EastEnders.
Her other credits include,
Till Death Us Do Part (1966—1986)
Fawlty Towers (1979)
Worzel Gummidge (1979—1989)
Happy Families (1985)
Victoria Wood (1989)
Keeping Up Appearances (1995)
Heartbeat (1995—1997)
Midsummer Murders (1998)
The Worst Witch (1998—2000)
Casualty (2000)
Born and Bred (2003)
Mist: Sheepdog Tales (2006—2009)
Miss Marple (2009)
Ingenious (2009)
Benidorm (2009)
Sherlock (2010)
Ad blocker interference detected!
Wikia is a free-to-use site that makes money from advertising. We have a modified experience for viewers using ad blockers

Wikia is not accessible if you've made further modifications. Remove the custom ad blocker rule(s) and the page will load as expected.