The Walford Attacker was a minor character in EastEnders in 1987. He stalked many women in the area and brutally assaulted
Pat Wicks
in February 1987. Local resident
Pete Beale
was suspected but the real culprit was caught when trying to attack
Debbie Wilkins
in the laundrette. The Attacker was played by actor Colum Gallivan.
Biography
Backstory
1987
In early 1987 several women in the 
Albert Square
area of Walford were being attacked at night time. A few of them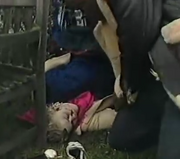 managed to escape before being harmed including
Sharon Watts
.
One dark night in February 1987, Pat Wicks was walking back home when she knew she was being followed. As she stood near the square garden railings, a man pounced on her and attacked her, leaving her for dead before fleeing into the night. The following morning Dot Cotton found her laying in the gardens badly beaten up. She cried for help and Pat was rushed to hospital. Her ex husband Pete Beale was the prime suspect. One night, the posh speaking Walford Attacker came into the lauderette and wanted to talk to Debbie Wilkins and started to attack her but she was trained in martial arts. Pete Beale apprehended him and he was jailed.