First Fire in 1992
Grant sets fire to the pub in 1992 in an insurance scam and it is refurbished. Grant and Sharon divorce and their share of The Queen Vic is sold to Grant's mother, Peggy .
Second Fire in 2010
Once again, fire destroys The Queen Vic as Phil is in a drunken state and decides to spite his mother Peggy by burning down The Vic. Peggy then decides to transfer the ownership to Phil before she leaves Walford. Phil renovates the pub and
rents it to Alfie Moon and his wife Kat . Kat is away temporarily in 2012 when Roxy again is landlady but upo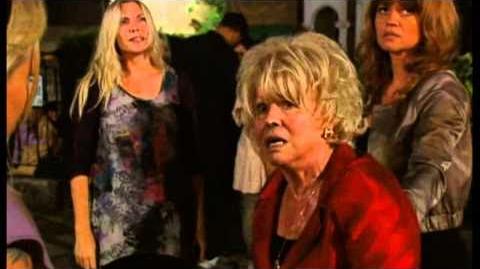 n Kat's return, The Queen Vic is forced to close down due to an outbreak of bed bugs, the source of which was thought to be Shirley Carter, who has been staying. Instead, it was found that the source was the flat where Kat was meeting her lover Derek Branning.
The Queen Vic returns to Phil when Kat and Alfie fail to pay rent and Roxy is again made manager. However, Phil has a change of mind about Kat and Alfie when he finds out from Kat about her affair and subsequent attempt to save her marriage, all the while leaving Roxy as manager. During Christmas 2012, Alfie finds out about the affair, they separate and Roxy and Amy move back to The Queen Vic . Roxy replaces Kat as the joint licensee of the pub with Alfie , but leaves after Alfie reunites with Kat on the day of his and Roxy's wedding. Phil decides to sell the pub and Alfie and Kat are forced to move out.