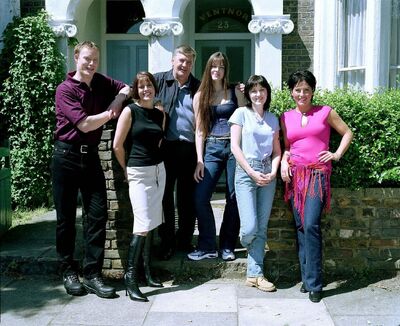 The current members of the Slater family are Kat Moon, her husband Alfie Moon and child Tommy Moon, Stacey Branning and her daughter Lily Branning.
The Slater Family
Jimmy Harris - sister Pat Evans
Big Mo Harris (née Mo Porter)
 Viv Slater (née Harris)
Charlie Slater 
Harry Slater
Lynne Hobbs (née Slater)
Berlinda Peacock (née Slater)
Kat Moon (née Slater)
Little Mo Mitchell (née Morgan, previously Slater)
Zoe Slater
Brian Slater
Jean Slater
Sean Slater
Stacey Branning (née Slater)
Gary Hobbs
Neville Peacock
Alfie Moon
Tommy Moon
Trevor Morgan
Billy Mitchell
Freddy Slater
Ad blocker interference detected!
Wikia is a free-to-use site that makes money from advertising. We have a modified experience for viewers using ad blockers

Wikia is not accessible if you've made further modifications. Remove the custom ad blocker rule(s) and the page will load as expected.