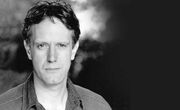 Simon Robson is a British actor who played Graham Stone in EastEnders.
As an actor he has appeared in Doctors, Tom & Viv, Bodywork, Trial and Retribution and EastEnders, playing Graham Stone.
Simon Robson studied at Cambridge University and trained as an actor at RADA. He has worked extensively in the theatre, as well as appearing in Eastenders and Doctors. His first play, The Ghost Train Tattoo, was premiered at the Royal Exchange Theatre in Manchester in 2001. Since then he has published a book of short stories, The Separate Heart, which was shortlisted for the prestigious Frank O'Connor Prize in 2007.
Ad blocker interference detected!
Wikia is a free-to-use site that makes money from advertising. We have a modified experience for viewers using ad blockers

Wikia is not accessible if you've made further modifications. Remove the custom ad blocker rule(s) and the page will load as expected.