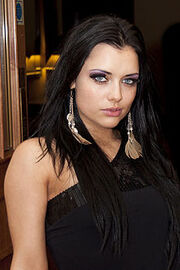 Shona Bernadette McGarty was born 14th October, 1991 in Borehamwood. She is an English actress who plays Whitney Dean in EastEnders.
McGarty attended St.Teresa's Primary RC School in Borehamwood. She is currently in a relationship with fellow cast member Matt Lapinskas. In March 2012, McGarty and Lapinskas were asked to leave an Asda supermarket after they smeared McGarty "suggestively" with yoghurt whilst shopping. She attended Loreto College, St Albans.
Ad blocker interference detected!
Wikia is a free-to-use site that makes money from advertising. We have a modified experience for viewers using ad blockers

Wikia is not accessible if you've made further modifications. Remove the custom ad blocker rule(s) and the page will load as expected.