Spoiler Warning!

This article could contain spoilers! Read at your own risk!
2014
Friday 28th March 
Mick: Bill… Bill… Bill… I'm going to start calling you that from now on.
Masood: Hey, I'm just the messenger.
Monday 31st March 
David: Homework?
Tiffany: Yes.
David: Trainers?
Morgan: Yes.
David: Chocolate that you're not meant to have and I didn't see you taking?
Tiffany / Morgan: No!
Monday 1st April 
Lauren: Ah, the good old mocktail. What happens if you drink too much vitamin C?
Peter: Not that much, buzz-wise.
Lauren: Happy days.
Friday 4th April 
Tina: Check her out. Su Pollard called. She wants her glasses back.
Nancy: Who's Su Pollard?
Monday 7th April 
Ronnie: You want to know what's under that overcoat?
Roxy: I do not…
Ronnie: I've seen him in the gym. Sweaty…tousled….lycra…
Roxy: Ronnie…
Ronnie: Curves in all the right places...
Tuesday 8th April 
Jake: What's her name?
Aleks: She's no one.
Jake: Yeah, right, that'll be why you came in so pleased with yourself?
Thursday 10th April 
Ronnie: Maybe you're better off just being single for a while.
Roxy: And then what? I end up in some high-rise, stinking of cats.
Thursday 10th April 
Lola: Look at me. Everthing I wear is either knock-off or second hand.
Roxy: Come on. Peter wouldn't care if you showed up in a bin bag.
Monday 14th April 
Ian: I'm not in the mood for any more trouble.
Lucy: I'm not here to cause trouble.
Tuesday 15th April 
Terry: Anyone sat here? Or just your pretend boyfriend?
Whitney: He was being a prat.
Terry: Good looking prat.
Monday 21st April
Kat: …If it was me I'd cut it off.
Bianca: And mince it.
Kat: And serve it to him in a bun.
Friday 9th May
Lola: I'm making dinner for Peter.

Billy: Stay there. Let me sort you out with some chips.
Monday 12th May
Carol: Are you eating again?
David: I'm a growing boy.
Monday 12th May
Mick: Don't you think one foghorn's enough in this gaff?
Linda: Are you talking about me!?
Friday 16th May
Sharon: We can pretend we're a couple of teenagers going on our first date.
Phil: Let's not get carried away.
Friday 16th May
Linda: Come on, Mick. It'll really cheer her up seeing your face.
Mick: How many times do I have to say it? I ain't skyping a dog.
Monday 19th May
Tina: Like Dad seriously would have lifted a finger. Didn't want to move away from his crossword more like.
Monday 27th May
Whitney: Something old. That's the first one, isn't it?
Carol: Well that's easy enough, just look at the bride.
Friday 25th July 
Stan: R.U.M. What's it spell?

Shirley: Liver failure. You don't even drink rum.
Thursday 31st July
Aleks: Have you seen Alfie?
Sharon: Hiding behind the baked beans?
Friday 4th August
Alfie: You know what they say about rules. Meant to be broken and all that. 
Aleks: On the contrary, rules are there to be observed. At all times.
Wednesday 6th August
Alfie: Can we go to the chippy first? I'm starving.

Kat: Jealous of my bump or something?
Monday 11th August
Nancy: We should go over there. Stick some manky prawns through her letterbox.
Lee: Pipe down, they'll hear you…
Thursday 14th August
Sonia: So remember, it's carbs before exercise and protein after…

Sharon: I thought it was wine after?
Monday 18th August
Dot: Bianca was a lovely girl, but some of these outfits…They're enough to bring on one of my migraines.
Friday 22nd August
Lauren: Had a quiet night in, did we Dad?

Max: Don't start on me, Lauren. You're the one who came slamming in last night - stomping up the stairs.
Monday 25th August
Terry: She has a point Bianca. Have you looked in the mirror lately?
Bianca: No. But if you bend down, I could look at my reflection in your head.
Monday 1st September
Bianca: How did I end up with such noisy kids?
Whitney: You ain't exactly Tinkerbell yourself though, are you?
Tuesday 2nd September
Kat: Half the food's still frozen.
Alfie: Bianca won't notice. We'll get her on Mo's cheap Hungarian red.

Monday 8th September
Aunt Babe : About as lively as a funeral parlour in here. Someone died?
Nancy : Just Lee's chances of getting a date again.
Monday 8th September
Sonia: You've killed every plant you've ever owned, including the fake ones.
Bianca: I can learn, I'll be like that Charlie Dimmock.

Friday 12th September
Bianca: You're arrogant, you're smug and that hair? You do know it ain't the 80's?
Aleks: Pitch fees.
Kat:You'll get them.

Monday 15th September
Shirley: Speak of the devil. You alright there?
Linda: I've just lost my earring to a urinal cake so you tell me.

Monday 15th September
Kat: Alfie, we're going! If I'm not back by ten I've chucked you for a stripper!
Alfie: Yeah, right. I'm not that lucky, babe!

Friday 19th September
Max: How about pasta? I make a mean spag bol.
Abi: You really don't, Dad.
Lauren:Why don't we order a takeaway,might be safer all round?

Wednesday 24th December
Patrick: "I heard there's free mulled wine."
Denise: "You really don't, Dad."

2015
Monday 26th January
Donna Yates: D'you sing in the shower? Alfie Moon: Yes! I love to belt out a good tune while I'm lathering myself up in the morning.


Thursday 29th January
Mo Harris: Come on, girls! Get your stretchy skirts for a tenner. Extra lycra, cheaper than a tummy tuck.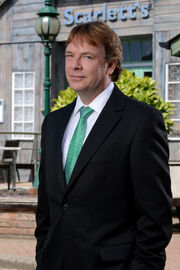 Monday 9th February
Jane Beale: Roses or Gardenias for table centres?
Ian Beale: Whichever's the cheapest.
Thursday 26th March
Alfie Moon: I'm just saying, you know your kiwis from your kumquats. I thought we could help each other out.
Tuesday 14th April
Max Branning: Fix the car Jay. That's what I pay you for. Don't need counselling from a teenager.
Tuesday 12th May
Thursday 28th May
Monday 8th June
Monday 6th July
Thursday 9th July
Tuesday 28th July
Tuesday 28th July
Friday 31st July
Thursday 6th August
Friday 28th August
Tuesday 1st September
Thursday 3rd September
Friday 4th September
Tuesday 6th October
Thursday 15th October
Monday 5th October
Friday 2nd October
Tuesday 5th November
Monday 23rd November
Friday 27th November
Wednesday 23rd December
Thursday 24th December
2016
Thursday 18th February
Friday 19th February
Tuesday 23rd February
Friday 4th March
Thursday 9th June
Friday 10th June
Monday 27th June
Monday 11th July
Thursday 14th July
Tuesday 19th July
Friday 29th July
Friday 5th August
Tuesday 9th August
Monday 22nd August
Monday 29th August
Monday 29th August
Monday 19th September
Monday 19th September
Friday 23rd September
Thursday 13th October
Thursday 13th October
Friday 14th October
(MOOSE winks at WHITNEY. She blushes, a little shocked).
Tuesday 18th October
Thursday 20th October
Monday 7th November
Friday 11th November
Monday 21st November
Monday 28th November
Tuesday 29th November
Thursday 15th December
Thursday 22nd December
Sunday 25th December
Sunday 25th December
(DOT has a little smile at this - the irony)
Tuesday 27th December