Oscar Branning
Talk

0
1,880pages on
this wiki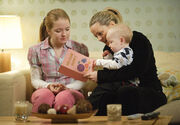 This article is a Stub. Please help the EastEnders Wikia by updating it.
Oscar Branning is the son of Max Branning and Tanya Branning and is the brother of Lauren Branning and Abi Branning and Bradley Branning(Bradley is deceased).
He is currently residing with his mother, Tanya, his Father Max, Lauren and Abi. Although Max is the biological father, Greg is acting like a father to the toddler. Currently played by twins Charlee (pictured right) and Neo Hall.
Family