Naomi Julien


Portrayed by
Petra Letang
First Appearance
15th August 2005
Last Appearance
24th May 2007
About
Occupation
Nurse

Relationships
Girlfriend
Sonia Fowler
Father
Audley Julien
Mother
Grace Julien
Brothers
Dion Julien
Naomi arrives in Albert Square as Sonia Fowler's nurse friend. She lives with Dot Branning and Jim Branning, then moves in with Garry Hobbs and Minty Peterson. Garry takes a liking to Naomi and they share a kiss, but she develops romantic feelings for Sonia. Sonia tells Naomi that she is having problems with her husband Martin Fowler and is considering a trial separation. Naomi consoles Sonia and they kiss, but Sonia immediately regrets it. Martin blames Naomi for spoiling his marriage, and they become enemies. Naomi initially accepts that Sonia still loves Martin and remains friends with her.
However, Sonia eventually leaves Martin to live with Naomi. Naomi is a lesbian who kissed sonia jackson and then started a relationship until it got difficult.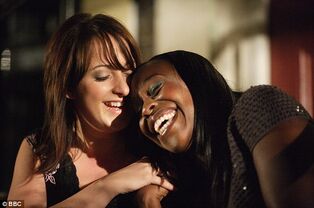 Ad blocker interference detected!
Wikia is a free-to-use site that makes money from advertising. We have a modified experience for viewers using ad blockers

Wikia is not accessible if you've made further modifications. Remove the custom ad blocker rule(s) and the page will load as expected.