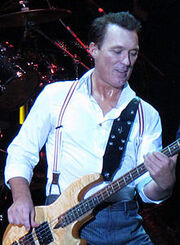 Martin John Kemp (born 10 October 1961) is an English actor, musician, and occasional television presenter, best known as the bassist in the New Wave band Spandau Ballet, as well as for his portrayal as Steve Owen from the BBC soap opera EastEnders. He is the brother of Gary Kemp, who was also a member of Spandau Ballet and has also had an acting career. He also finished third in the summer series of Celebrity Big Brother 2012.
Ad blocker interference detected!
Wikia is a free-to-use site that makes money from advertising. We have a modified experience for viewers using ad blockers

Wikia is not accessible if you've made further modifications. Remove the custom ad blocker rule(s) and the page will load as expected.