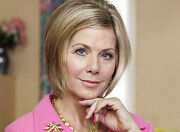 Glynis Barber (born 25 October 1955) is a South African actress of Afrikaner descent, born and brought up in South Africa. She was born Glynis van der Riet. When she was five years old, her parents divorced, and she and her mother moved to Johannesburg. She is best known for her portrayals of Soolin in Blake's 7, Sgt. Harriet Makepeace in the British police drama Dempsey and Makepeace, Fiona Brake in Night and Day, DCI Grace Barraclough in Emmerdale and Glenda Mitchell in EastEnders.
Acting Career
Television
She studied at the Mountview Academy of Theatre Arts. Acting since 1978, her popular breakthrough came in 1981 with her role as Soolin in the BBC science fiction television series Blake's 7.
In 1982 she took the title role in the television series Jane playing a World War II heroine. This series was filmed against a blue screen allowing for the addition of a cartoon background, an experimental technique in its day. However, Barber is best known for her mid-1980s role of Sgt. Harriet Makepeace in the British police drama Dempsey and Makepeace, where she met her future husband, Michael Brandon.
Since 1987, Barber has appeared frequently in plays, films and television series. She also starred in the LWT drama series Night and Day as Fiona Brake. In 2006 she joined the cast of ITV soap, Emmerdale, playing the character of DCI Grace Barraclough, investigating the death of Tom King on Christmas Day. She exited the soap in September 2007, when her character was killed.
In 2009, she appeared as hospital administrator Jean McAteer in The Royal, another ITV drama series set in Yorkshire. On 23 October 2009 it was announced she would play Glenda Mitchell the mother of Ronnie Mitchell, Roxy Mitchell and Danny Mitchell in EastEnders after Jill Gascoine withdrew from the role during her first day on set. On 27 February 2011 it was announced that Barber was to leave EastEnders in March 2011.
Theatre
Her stage work has included Macbeth, Killing Time with Dennis Waterman, High Flyers with Hugh Grant and Make Me A Match and The Graduate. In 2011 Barber starred alongside Christopher Timothy and Denis Lil in Alan Ackbourne's Seasons Greetings playing Belinda.
Film
She appeared as Lady Caroline in Michael Winner's 1983 remake of The Wicked Lady, which starred Faye Dunaway. She later appeared alongside Vanessa Redgrave in the 1997 film, Déjà Vu.
She appeared as Anthea Davis in On the Nose in 2001 along with Dan Aykroyd and Robbie Coltrane.
Ad blocker interference detected!
Wikia is a free-to-use site that makes money from advertising. We have a modified experience for viewers using ad blockers

Wikia is not accessible if you've made further modifications. Remove the custom ad blocker rule(s) and the page will load as expected.