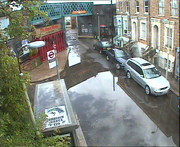 George Street is a street in Walford which Turpin Road joins. It houses the  plus a few other shops and a terrace of Victorian houses. Until 1993 the residents of the houses and shops in George Street were never seen in the EastEnders series canon so we never knew who lived there.
History
1985-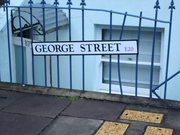 From 1985 to 1993, the shops and houses down George Street were never seen in the serial and we never knew who lived in the 3 townhouses down George Street.
The street was first seen in 1994 when Steve Elliot bought an old pet shop and converted it into a hairdressers called Kool For Kuts. The bus stop nearby was also seen quite a lot when residents got on and off. Jules Tavernier moved into a flat in George Street.
In 2015, we know that No. 87 is King George's Guest House. Billy, Lola, Janet and Lexi live in the Basement Flat of No. 89 and Stacey, Lily, Kat, Tommy, Bert & Ernie and Mo live in the Top Flat of No. 91. The Current Shops on George Street are Hungry Hank, Ned's Computer Repairs Shop and The Tattoo Parlour.
Gallery