Synopsis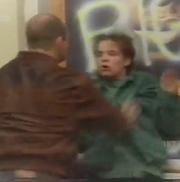 Frank Butcher
is determined to get even with the Hammond cab firm owners by sending 2 lads round to try and intimidate them. Frank says they bit off more than they can chew by trying to close him down. One of them is about 50 and the other is about 25.
Clem
returns from
Amsterdam, Holland
with
Mark Fowler
. He is angry that
Michelle Fowler
chucked his drugs away. She tells him to leave. He does.
Grant Mitchell
accuses
Aidan Brosnan
of being behind the robbery at
The Queen Victoria
. Aidan has just got back from Ireland. Grant says the robbery took place the day Aidan disappeared. He tells Aidan if he ever robs from him again he will break every bone in his body. Aidan protests his innocence, as he actually is.
Kathy Beale
is still jealous of
Phil Mitchell
and his feelings for his troublesome legal wife
Nadia Mitchell
and tells Phil to leave. But she is robbed that night and the robber runs off.
Cast