Synopsis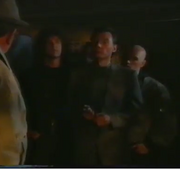 Shelley Lewis
swears to
Michelle Fowler
that she knows nothing about the dope that her boyfriend
Clem
put in her bag.
Mark Fowler
and Clem are still in
Amsterdam, Holland
.
Frank Butcher
is stressed as he keeps getting crank taxi cab orders and had to drive to
Kentish Town
and back all for nothing. An employe of Frank's,
Dave
, says that he was warned off by 4 blokes. The 4 blokes then visit Frank that night at the car lot saying they have a message from their boss at the rival taxi firm that as of now Frank is out of business.
Cast
Ad blocker interference detected!
Wikia is a free-to-use site that makes money from advertising. We have a modified experience for viewers using ad blockers

Wikia is not accessible if you've made further modifications. Remove the custom ad blocker rule(s) and the page will load as expected.