Alfie's latest money-making scheme leads him to make a shocking discovery. Carol makes a decision about her treatment, but how will the rest of her family react?
More Detail
Alfie gets lumbered with a load of ice-cream, although he is soon shifting it to his customers - only for Aleks to fine him for trading without the proper licence. Heading to the market manager's office, he again comes close to uncovering his secret and sets out to discover what he's hiding. Carol visits hospital to discuss her mastectomy, although Bianca is shocked by the decision she makes about her treatment. Tina is on her best behaviour ahead of her performance review with Ian, but it doesn't go the way she's hoped, and Johnny's mobile keeps buzzing with messages from a keen new love interest. Dean couldn't care less that Shirley has gone missing, while Nikki returns to Walford.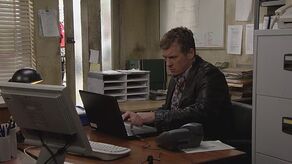 Ad blocker interference detected!
Wikia is a free-to-use site that makes money from advertising. We have a modified experience for viewers using ad blockers

Wikia is not accessible if you've made further modifications. Remove the custom ad blocker rule(s) and the page will load as expected.