With tensions running high at the Vic, will Stan be able to repair his family with a trip down memory lane? Phil is shocked when he wakes to find an intruder in his house. Mick faces his demons with the help of an unlikely Walford resident.
More Detail
Linda worries when Johnny doesn't return home, so Stan takes his daughter-in-law on a trip down memory lane to make her see how her behaviour is driving a wedge between her and her son. Back in Walford, Mick escapes the family dramas and heads back to the swimming pool, where an unlikely Good Samaritan finally helps him face the water, while Phil is shocked when he awakes to find an intruder in his bedroom. Tosh and Tina head to a Gay Pride celebration, although the latter's choice of costume annoys her girlfriend.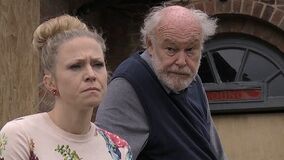 Ad blocker interference detected!
Wikia is a free-to-use site that makes money from advertising. We have a modified experience for viewers using ad blockers

Wikia is not accessible if you've made further modifications. Remove the custom ad blocker rule(s) and the page will load as expected.