Phil allows Shirley to take charge, but ends up learning more than he expected to. Johnny is left humiliated by Linda's actions. Shocked by Les's revelation, is Peter being lied to?
A conscience-stricken Johnny's intention to own up to hiding from Sharon's attackers is thwarted by Linda, who's keen to avoid a backlash against the Carters. However, his private humiliation becomes public when Linda admits to The Albert's customers that he failed to intervene when he had the opportunity to do so. With Phil keen to vent his frustrations, it falls to Ian, of all people, to provide the necessary consolation. Peter is left confused when Les insists he hasn't yet been paid for Lucy's funeral, especially when his father had confirmed that he emptied the cafe's till for that purpose. Denise offers to babysit Lexi and is delighted when a superficially disinterested Ian quickly bonds with her.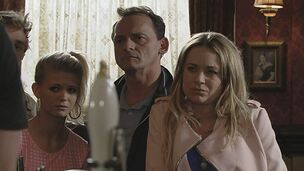 Ad blocker interference detected!
Wikia is a free-to-use site that makes money from advertising. We have a modified experience for viewers using ad blockers

Wikia is not accessible if you've made further modifications. Remove the custom ad blocker rule(s) and the page will load as expected.