After receiving more information, the police return to Walford to clarify a couple of statements. Suspicious of Aleks' behaviour, Roxy plays detective but is shocked by what she discovers. Tina and Tosh are faced with the reality of parenthood when they babysit Amy.
Ian and Peter put on a brave face for Jake's plea hearing, while Max and Abi receive a visit from the police, who have more information and are looking to clarify their statement. A broody Tina and Tosh babysit for Amy so that Aleks and Roxy can enjoy another night out, but it soon becomes clear the women have different attitudes toward parenting. Over at the Albert, Sharon is impressed with Johnny's business ideas, while Phil decides it's time he took less of a background role and became more involved in the bar.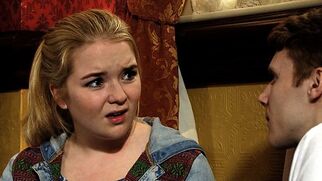 Ad blocker interference detected!
Wikia is a free-to-use site that makes money from advertising. We have a modified experience for viewers using ad blockers

Wikia is not accessible if you've made further modifications. Remove the custom ad blocker rule(s) and the page will load as expected.