Chaos descends on the Butcher household as Carol and David's wedding day arrives - will the day run as smoothly as planned?
Stan makes Dean an offer he can't refuse.
Sharon tries to talk to Ian but will her words have the impact she desires?
Carol may be having a horrendous time health-wise, but the glimmer of hope is that she's getting to marry David Wicks, the true Don of Albert Square. Ah, David, with his cheeky wink and his knack of juggling tea, toast, mobile phone and car keys, while still having headspace to accuse Max Branning of murder. He's adorable.
There is, though, an undeniable whiff of the disreputable about David, and Bianca is still unsure about his intentions, while Liam is reluctant to walk Carol into the register office. And why is David's quest for "something blue" taking him away from Walford? All will be revealed.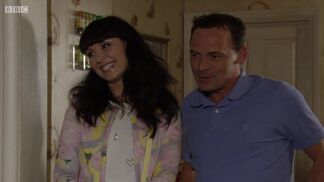 Chaos descends on the Butcher household as Carol and David's wedding day arrives. However, Bianca is still unsure of her dad's feeling toward her mum, and when the groom appears to do a vanishing act, it seems her worst fears have been realised. Stan returns from his court appearance with a tempting offer for Dean - money to set up his own business in the Square - while Mick and Shirley have a heart to heart about recent revelations. Lola is furious with Billy after discovering he has been stealing stock from the fish and chip shop, and Sharon tries to talk to Ian.
Ad blocker interference detected!
Wikia is a free-to-use site that makes money from advertising. We have a modified experience for viewers using ad blockers

Wikia is not accessible if you've made further modifications. Remove the custom ad blocker rule(s) and the page will load as expected.