The repercussions of Lauren's actions send shockwaves through Albert Square.
Peter turns to Lauren for comfort, and Ian's grief forces Phil to make a drastic decision.
An unexpected visitor takes the Carters by surprise.
News of the arrest sends shockwaves through Albert Square, and as Lauren struggles to come to terms with her actions, she looks once more to Peter, who in turn is pushing Lola further away.
Phil visits Ian in an effort to help him get his life back on track, but he underestimates the man's grief and ends up making a big decision himself.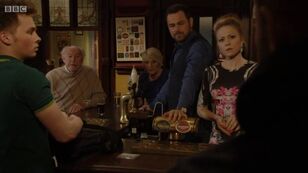 David sends Bianca back to the shop to buy Carol the expensive dress she wanted, only to have his bubble burst by Liam, who confronts him about what he saw him up to with Nikki.
A heated argument between Stan and Shirley is interrupted by a family emergency - and the day takes an even more unexpected turn with the arrival of a surprise visitor.
Cast
Shirley Carter-Linda Henry

Stan Carter-Timothy West

Mick Carter-Danny Dyer

Linda Carter-Kellie Bright

Nancy Carter-Maddy Hill

Johnny Carter-Sam Strike

Tina Carter-Luisa Bradshaw-White

Dean Wicks-Matt Di Angelo

Fiona 'Tosh' Mackintosh-Rebecca Scroggs

Cora Cross-Ann Mitchell

Max Branning-Jake Wood

Lauren Branning-Jacqueline Jossa

Peter Beale-Ben Hardy

Lola Pearce-Danielle Harold

DC Emma Summerhayes-Anna Acton

Ian Beale-Adam Woodyatt

Denise Fox-Diane Parish

Phil Mitchell-Steve McFadden

Jay Brown-Jamie Borthwick

Carol Jackson-Lindsey Coulson

Bianca Butcher-Patsy Palmer

David Wicks-Michael French

Liam Butcher-James Forde

Ritchie Scott-Sian Webber