Sonia and Bianca try to put their differences behind them for Carol's sake, but how long will it last? David delivers a shocking ultimatum to one of Walford's residents. After Tina gets advice from an unlikely individual, she is stopped in her tracks by some news from Tosh.
Tosh is Jake and Aleks new roommate and she said that Tina could move in instead of her sister (Shirley) gives the evils everytime she goes in The Vic to see Tina. But will Tina move in with Tosh?
Carol has a visitor called Helen who is a wigg specialist as Carol shaved off her hair asoon as it was falling out, Bianca and Sonia was a bit shocked to see Carol out in the hallway as she took off her scarff on her head, But they knew that Carol would loose her hair evendually.
Elsewhere
David
gets the evidence out of
Max
by getting him to confess that he was seeing
Lucy
's secret affair,
David
says to
Max
to tell
Ian
or he will because
Ian
has the right to know
Max
asks
David
to not tell
Lauren
.
David
goes over to the Beale's house calling for
Ian
but then
Peter
and
Lauren
come down the stairs,
David
asks
Peter
is your dad there,
Peter
replies saying he's asleep is it about
Lucy
?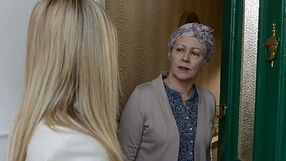 On the Market Alfie is considering closing his pitch as he planned that he would run that pitch with Kat, but Kat can't just ditch Bianca after everything they have gone through. Donna is listening in on the convosation and says to Alfie she will give him £100 for the lot, Kat says don't sell it to her, Donna then raises it to £150 for it all. But will Alfie close his pitch?
Cast
Carol Jackson...........................................................Lindsey Coulson

Bianca Butcher...............................................................Patsy Palmer

Sonia Fowler..............................................................Natalie Cassidy

Tina Carter.....................................................Luisa Bradshaw-White

Fiona 'Tosh' Mackintosh.......................................Rebecca Scroggs

Jake Stone.....................................................................Jamie Lomas

Aleks Shirovs..........................................................Kristian Kiehling

Kat Moon.....................................................................Jessie Wallace

Alfie Moon.....................................................................Shane Richie

Donna Yates..............................................................Lisa Hammond

Ian Beale..................................................................Adam Woodyatt

Peter Beale........................................................................Ben Hardy

Whitney Dean...........................................................Shona McGarty

Lauren Branning...................................................Jacqueline Jossa

Max Branning..................................................................Jake Wood

David Wicks..............................................................Michael French

Helen..............................................................................Gina Murray