The Spraggans and Butchers are in for a shock when a surprise visitor arrives on their doorstep.
Cracks in Terry and Bianca's relationship begin to show, but is this the end of their relationship before it has even begun?
Kat has a dilemma to face when she is given an offer she cannot refuse, but her conscience quickly comes into play and she cannot decide what to do.
Joey is caught in a compromising situation with an unlikely lady, but what will people think?
Despite Kat's best intentions to do the right thing, her plan backfires and she is left feeling guilty.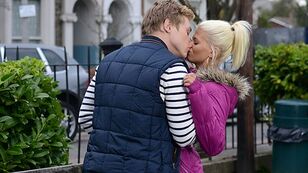 Bianca asks David for moral support with Terry's ex-wife, but she is surprised when things take an unexpected turn.
Things get rowdy in the Vic when Roxy gets drunk and loses control.
Cast
Lauren Branning Protrayed by Jacqueline Jossa

Jake Stone Protrayed by Jamie Lomas

Sadie Young Protrayed by Kate Magowan

Kat Moon Protrayed by Jessie Wallace

Alfie Moon Protrayed by Shane Richie

Roxy Mitchell Protrayed by Rita Simons

Carl White Protrayed by Daniel Coonan

Ronnie Mitchell Protrayed by Samantha Womack

Phil Mitchell Protrayed by Steve McFadden

Lola Pearce Protrayed by Danielle Harold

Peter Beale Protrayed by Ben Hardy

Ian Beale Protrayed by Adam Woodyatt

Arthur 'Fatboy' Chubb Protrayed by Ricky Norwood

Dot Branning Protrayed by June Brown

Poppy Meadow Protrayed by Rachel Bright

Bianca Butcher Protrayed by Patsy Palmer

Terry Spraggan Protrayed by Terry Alderton

Nikki Spraggan Protrayed by Rachel Wilde

David Wicks Protrayed by Michael French

Carol Jackson Protrayed by Lindsey Coulson

Liam Butcher Protrayed by James Forde

Whitney Dean Protrayed by Shona McGarty

Max Branning Protrayed by Jake Wood

Cora Cross Protrayed by Ann Mitchell

Dexter Hartman Protrayed by Khali Best

Ava Hartman Protrayed by Clare Perkins

Janine Butcher Protrayed by Charlie Brooks

Joey Branning Protrayed by David Witts

Morgan Butcher Protrayed by Devon Higgs

Rosie Spraggan Protrayed by Jerzey Swingler

TJ Spraggan Protrayed by George Sargeant

Tiffany Butcher Protrayed by Maisie Smith

Bella Young Protrayed by Isobelle Molloy