Synopsis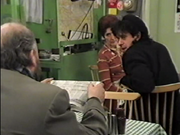 Pete Beale
is nervous about his brother
Kenny Beale
turning up after 23 years away.
Dot Cotton
gets worried when a man with a beard, aged about 45 keeps hanging round 
Bridge Street Cafe
.
Rod Norman
tells him to not step out of line. The man leaves but comes back later. Dot says if he robs her all she has to do is scream and everyone in the market will come in and stop him but the man says if he was going to rob her he would not hang around where everyone saw his face. He says he has got a new job.
Lofty Holloway
is still angry at
Michelle Fowler
for aborting their baby and he wants to leave
Walford
.
Credits
Cast
Main cast
Ad blocker interference detected!
Wikia is a free-to-use site that makes money from advertising. We have a modified experience for viewers using ad blockers

Wikia is not accessible if you've made further modifications. Remove the custom ad blocker rule(s) and the page will load as expected.