Synopsis
Mark takes money out of a tin, which was hidden on top of a cupboard and Lou asks him why he isn't at school, so he comes up with the excuse that his school work involves going into the community to elderly people to find out what life was like. As Nick leaves The Vic, Den notices his bruised face and Nick says it was the result of falling down the steps and Angie says to Den that he is the sort of punter they will get if they don't go up market. Kathy tells Angie that she's glad Nick's gone as she has never liked him and Angie brings up her idea of business lunches and how she could cook food in a morning with a microwave. However, she says that Den won't entertain the idea as he says they can't afford a microwave, but then he goes on about separate holidays. Meanwhile in The Vic, Debbie encourages Andy to do what they initially came in for as it is his duty and they agreed to speak to Dr Legg and Andy approaches Den to ask him a question about Nick, which is if he knows whether Nick has been in trouble with drugs. Ethel visits Lou and tells her that Dot has hardly no furniture in her flat and she told her that Nick was doing the flat up, but she didn't believe it and Lou says that Mark must be forbid from hanging around with Nick. Dr Legg's recent concerns are made clearer and fall into place when Andy sees him at the surgery. Mark takes laundry to Ethel's and Nick joins him with going to Ethel's, knowing Ethel doesn't believe in banks. At Ethel's, Nick and Mark tell Ethel that they are here for Mark's school project, which is hearing about memories. Mark is uncomfortable with the situation whilst Nick appears to be friendly with Ethel, however, Nick soon turns and demands Ethel's valuables, but Ethel fights off Nick and Mark defends Ethel, which results in a punch from Nick and Dr Legg arrives shortly after. Dr Legg has a stern talking to with Mark and he asks Mark if he is on heroin as Nick has been supplying young people with drugs and Nick is an addict himself. Mark confesses to trying heroin a couple of times and that even with the money from selling drugs, Nick never had enough and Nick use to threaten to tell his mum and dad if they didn't get more money. At The Fowler's, Lou, Pauline, Arthur, Kathy and Pete, Lou says that no one in the family has ever voluntarily gone to the police and Pauline says that the doctor promised not to say anything about Mark if he came clean and Dr Legg has never broken his word. Lou feels that the family can solve their own problems, but Kathy isn't sure if they can and she isn't sure whether Ian is on heroin as it happens to even the straightest of kids. Pete agrees with Kathy and they can't forget what it's all about, which is Reg and they know who is responsible and it's murder. At the surgery, DS Rich tells Dr Legg that they have all the evidence they need to nail Reg's killer and Dr Legg is shocked the police believe Nick killed Reg. The following day, Ethel tells Lou what she did to Nick and Debbie visits Ethel and offers to help out if necessary and Lou takes the opportunity to complain to Debbie about the noise made during the night from her house due to Andy. Mary accidentally burns one of the shirts she had embroided with an iron when she is distracted by a pan whilst at The Vic, DS Rich asks Angie to contact him if she knows of Nick's whereabouts whilst Debbie tells Andy of her troubles with the residents whilst trying to belong, but Andy says all the interfering is making people resent her. Mark visits Ethel and Ethel asks if Mark is going to get into trouble and whether he should. Mark says that he's done things that he's not proud of, but Nick gave him no choice and Mark hasn't told the police that, meaning Mark is in the clear and he's to take advantage of the chances he gets. Mark admits that he's never been so scared in his life.
Cast
Main cast
Guest Cast
Uncredited Cast
Watch episode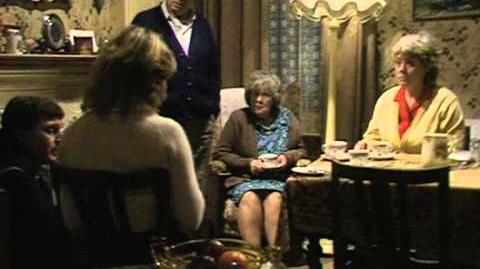 Ad blocker interference detected!
Wikia is a free-to-use site that makes money from advertising. We have a modified experience for viewers using ad blockers

Wikia is not accessible if you've made further modifications. Remove the custom ad blocker rule(s) and the page will load as expected.