Synopsis
Phil Mitchell
is lying uncons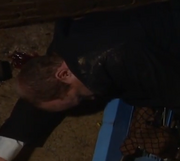 cious at the bottom of the inspection pit at the Arches. 
Nigel Bates
arrives at the garage and sees Grant has smashed the windscreen of a car in the forecourt. He then comes in and sees Grant sitting on the edge of the inspection pit in a daze and shocked. Nigel calls the ambulance and makes sure Phil is kept warm. Grant refuses to help but grunts that Phil wanted him to hurt him for what he did to him.
Kathy Beale
sees the emergency services outside The Arches, and sees Phil on a stretcher and she starts hitting Grant. She has to be restrained by the police.
Cast
Ad blocker interference detected!
Wikia is a free-to-use site that makes money from advertising. We have a modified experience for viewers using ad blockers

Wikia is not accessible if you've made further modifications. Remove the custom ad blocker rule(s) and the page will load as expected.