Synopsis
Kathy Beale
is still being harra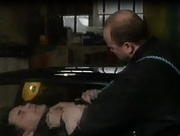 ssed by
Jimmy Coogan
.
Gita Kapoor
returns to
Albert Square
and says to best friend
Cindy Beale
how upset she is at losing her job.
Phil Mitchell
says to Jimmy that he can come and collect his car now if he wants. He then quickly summons
Grant Mitchell
to hide the car somewhere. Jimmy turns up at
The Arches
and asks for his car. Phil says he does not know where it is. Jimmy is annoyed at Phil for setting him up. They start to scrap and Phil pins Jimmy down on the bonnet of a car and tells him that if he goes near Kathy again he will kill him. Grant arrives and tells Jimmy to go home and have a coffee. Jimmy leaves.
Pat Butcher
is still upset and cries in front of
Ricky Butcher
saying she wishes he would just ring. Ricky has placed an ad in the Walford Gazette with a photo of Frank, asking if anyone knows him in his quest to try and track him down.
Cast
Ad blocker interference detected!
Wikia is a free-to-use site that makes money from advertising. We have a modified experience for viewers using ad blockers

Wikia is not accessible if you've made further modifications. Remove the custom ad blocker rule(s) and the page will load as expected.