Synopsis
Cindy Beale
is pressurised by
Sanjay Kapoor
to tell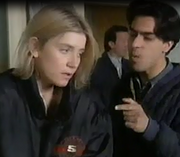 him where his wife
Gita Kapoor
is. As Cindy's twins are making a racket, Sanjay blocks her from going to see them. Cindy gives in and tells Sanjay where Gita is.
Pat Butcher
goes to work at
The Queen Vic
and says to
Grant Mitchell
she thinks 
Frank Butcher
has run away. When Pat comes home she phones a few coroners to see if they have recieved any dead bodies that match Frank's description. Dark hair, mid fifties, broad shoulders. The coroner says they have a man who matches Frank's description who was fished out of the Thames the night Frank disappeared. Pat is told to go and see if it is him. She later says that there must be thousands of men who fit that description so why should the man in the morgue be Frank.
Michelle Fowler
says she is coming home from hospital today.
Sharon Mitchell
offers to pick her up. Grant is still worried that Michelle will open her mouth about what really happened the night she was shot. She is still worried that
Dougie Briggs
will return and finish her and Grant off.
Cast
Ad blocker interference detected!
Wikia is a free-to-use site that makes money from advertising. We have a modified experience for viewers using ad blockers

Wikia is not accessible if you've made further modifications. Remove the custom ad blocker rule(s) and the page will load as expected.