Synopsis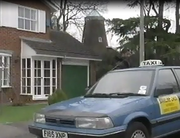 Pat Butcher
is worried sick about her son
David Wicks
. It is about 5am in the morning.
Frank Butcher
rings Walford police station and says David was released 2 hours ago. David is sat in
Bridge Street Cafe
with his cousin
Michelle Fowler
.
Ian Beale
opens up the stall and wonders where David is.
Steve Elliot
has a bag packed for his trip to
Norwich
in
Norfolk
to see if he can find
Hattie Tavernier
.
Grant Mitchell
says if he stays overnight can he let him know. Steve heads for Liverpool Street train station. A couple of hours later he arrives at
Etta Tavernier
's house in Norwich. She is not pleased to see him. Ian berates David for being late helping him on the stall. David says that he had sex with an underage girl, she looked 21 but was 15. Frank is sure David is a wrong un. In Norwich, Steve wants to talk to Hattie. Etta says he broke her heart by dumping her so suddenly when she was pregnant. She says Hattie lost the baby. Steve sees a photo of Hattie with another man. Etta says Hattie has moved on with her life. Steve leaves the house. As he does, he sees Hattie in a car kissing her new boyfriend. Defeated, Steve slings his bag over his shoulder and heads for the train station to get the next available train back to London.
Cast
Ad blocker interference detected!
Wikia is a free-to-use site that makes money from advertising. We have a modified experience for viewers using ad blockers

Wikia is not accessible if you've made further modifications. Remove the custom ad blocker rule(s) and the page will load as expected.