Synopsis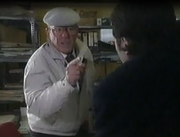 David Wicks
is still showing a massive interest in the fruit stall at
Bridge Street Market
, seeing as he is also the son of
Pete Beale
. He tries to win over
Frank Butcher
and gives him flannel about being a good salesman. Knowing David is a bit of a con man and causing aggro over a "Poxy fruit stall" in Frank's words, Frank warns him he will keep his eye on him. Back at the house that night Frank says to David to decide where to sell motor cars or Granny Smith's as he cannot do both.
Nellie Ellis
has got her foot well and truly under the table at
No 45 Albert Square
much to the dismay of
Arthur Fowler
.
Cast
Ad blocker interference detected!
Wikia is a free-to-use site that makes money from advertising. We have a modified experience for viewers using ad blockers

Wikia is not accessible if you've made further modifications. Remove the custom ad blocker rule(s) and the page will load as expected.