Synopsis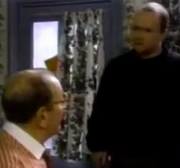 A financially strapped
Frank Butcher
has a bit of banter with son
Ricky Butcher
, Ricky mocks Frank and Frank says "How would you like a dig". In
The Queen Vic
later the day Frank says he will accept
Phil Mitchell
's offer of £5000 for Frank's share of
Bridge Street Cafe
. Frank says that Phil has had 2 good cracks out of him, the flat and his share of the cafe at rock bottom prices so feels Phil should return the favour. Phil agrees and Frank says he cant talk in the pub and to meet him round his house in 30 minutes.
David Wicks
still has not decided whether to be a car salesman or a fruit stall holder.
Ian Beale
is running the stall at the minute as is disgruntled cousin
Mark Fowler
has handed him the stall, seeing as Ian feels he has a right to it when Mark has slogged away running the stall since his uncle
Pete Beale
died. At Frank's house, Frank reminds Phil of the suggestion that maybe a fire should happen at the car lot to claim on the insurance. Phil is hesitant at first but agrees to commit arson for Frank.
Cast
Ad blocker interference detected!
Wikia is a free-to-use site that makes money from advertising. We have a modified experience for viewers using ad blockers

Wikia is not accessible if you've made further modifications. Remove the custom ad blocker rule(s) and the page will load as expected.