Synopsis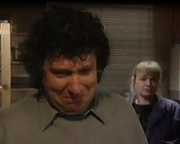 Frank Butcher
's financial worries take a turn for the worse when the police enquire about a stolen car that was sold. Frank says he did not know it was stolen. He has to say he sold it to
Michelle Fowler
. The police confiscate the car but Frank says he will give her a refund or a new car.
Nigel Bates
's love life remains complicated. But him and
Debbie Tyler
end up sleeping the night together.
Cast
Ad blocker interference detected!
Wikia is a free-to-use site that makes money from advertising. We have a modified experience for viewers using ad blockers

Wikia is not accessible if you've made further modifications. Remove the custom ad blocker rule(s) and the page will load as expected.