Synopsis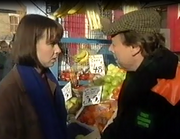 Phil Mitchell
is getting tins of paint ready to decorate his new flat.
Arthur Fowler
is being bossed around by the nagging
Nellie Ellis
. She wants him to collect her pension for her from the post office as she is worried about the gangs of muggers. Arthur says they don't get muggings round here. Arthur has a plan to get rid of Nellie as her flat in
Ilford
is remaining empty while Nellie is staying with him and 
Pauline Fowler
at their house. He phones them up and they say it does not matter as long as the rent is paid. Arthur says it should matter due to so much homelessness about. He wants to write a fake letter from the council telling Nellie that her flat must be occupied or she will lose it.
Cindy Beale
is on the warpath with
Kathy Beale
for sacking
Ian Beale
for doing catering on the quiet. Cindy accuses Kathy of being a bitch.
Richard Cole
has spent the night with
Bianca Jackson
and Ian Beale says he is so cheap.
Cast
Ad blocker interference detected!
Wikia is a free-to-use site that makes money from advertising. We have a modified experience for viewers using ad blockers

Wikia is not accessible if you've made further modifications. Remove the custom ad blocker rule(s) and the page will load as expected.