Synopsis
Mark Fowler
has organised a traffic jam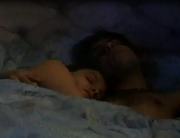 in
Bridge Street
in protest over
Big Ron
losing his pitch on the market. 
Mandy Salter
is still hiding away in the front room of
No 45 Albert Square
missing Aidan dreadfully.
Arthur Fowler
suggests she goes out to try and cheer herself up.
Grant Mitchell
suggests to 
Phil
to lie about sleeping with his still legally married wife
Nadia Mitchell
. Phil heeds his advice. He does in fact lie to Kathy and she falls for it. He tells Grant and Grant is pleased. A stressed
Frank Butcher
is having money worries. Little does
Tricky Dicky
know is Mark has informed his boss
Joe Saunders
of the traffic jam. When he turns up he summonds Tricky Dicky to the cafe and threatens him with the sack if he does not have the trucks removed within an hour. Tricky acts on this and promises Big Ron that he will get his pitch back. 
Gita Kapoor
comes back off her holiday with baby
Sharmilla
to find her husband
Sanjay
in bed with her sister
Meena
.
Cast
Ad blocker interference detected!
Wikia is a free-to-use site that makes money from advertising. We have a modified experience for viewers using ad blockers

Wikia is not accessible if you've made further modifications. Remove the custom ad blocker rule(s) and the page will load as expected.