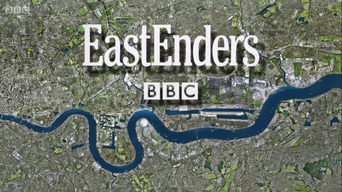 EastEnders is a British soap opera, broadcast almost every weeknight since 19 February 1985 on BBC One The show is set in Walford, a fictional borough of London, mainly Albert Square and surrounding streets.
History
EastEnders first started on 19th February 1985 on BBC One. Co-creator Tony Holland, himself from an East End family, created the show from his experiences along with Julia Smith.The early episodes focused on the residents of Albert Square like the Beale/Fowler family, consisting of grandma Lou, daughter Pauline, her husband Arthur and their kids Mark and Michelle, Pauline's twin brother Pete, his wife Kathy and their son Ian. There was also the Watts Family, with father Den, landlord of the Queen Victoria pub, his long suffering wife Angie, and their daughter Sharon. Also featured were Ali and Sue Osman, Ethel Skinner, corner shop owners Saeed and Naima Jeffery, barmaid Tracey, the Carpenter family, Mary Smith, nurse Andy O'Brien and girlfriend Debbie Wilkins and bad guy Nick Cotton.
Awards
EastEnders has won five BAFTA awards and Inside Soap's award for best Soap ten years running. It has also won eleven National Television Awards for 'Most Popular Serial Drama' and six awards for 'Best Soap' at the British Soap Awards. It has also been inducted into the Rose d'Or Hall of Fame. It's also won six TV Quick/TV Choice Awards Link titlefor 'Best Soap', three TRIC Awards for 'Soap of The Year' and three Royal Television Society Awards for 'Best Continuing Drama'.
Ad blocker interference detected!
Wikia is a free-to-use site that makes money from advertising. We have a modified experience for viewers using ad blockers

Wikia is not accessible if you've made further modifications. Remove the custom ad blocker rule(s) and the page will load as expected.