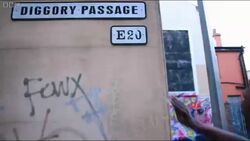 Diggory Passage is a passage in Walford, is between Victoria Square and Daisy Lane. The sign was first seen in the a behind the scene video of  Eastenders and then later seen in the Smasher Dance E20 advert for EastEnders E20.
Gallery
Smasher Dance E20 Advert
Loading...
Ad blocker interference detected!
Wikia is a free-to-use site that makes money from advertising. We have a modified experience for viewers using ad blockers

Wikia is not accessible if you've made further modifications. Remove the custom ad blocker rule(s) and the page will load as expected.