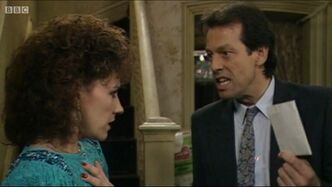 Den Watts
(1946-2005) and
Angie Watts
(1950-2002) ran
The Queen Vic
in Albert Square, and had done so for 17 years by February 1985. If they were around today they would probably be dubbed "Dangie" as part of the modern day tradition of shipping names.
Backstory
1985-1988
Den with life after Angie
Ad blocker interference detected!
Wikia is a free-to-use site that makes money from advertising. We have a modified experience for viewers using ad blockers

Wikia is not accessible if you've made further modifications. Remove the custom ad blocker rule(s) and the page will load as expected.