Janine confessed to David that she was the one who killed her husband Michael Moon, David recorded Janine confessing to the murder and demanded her money or the recording will go to the police.
On Christmas day Janine was going to purchase The Queen Vic from Phil but had to have the money up front in cash, Mick turns up and purchases The Queen Vic from Phil in cash on that day. Alfie and Kat got kicked out of The Vic by Phil and they had until Christmas day to find a new place to live. But Phil had a surprise just as he was getting everyone out of The Vic that it was her brother who bought The Queen Vic from him.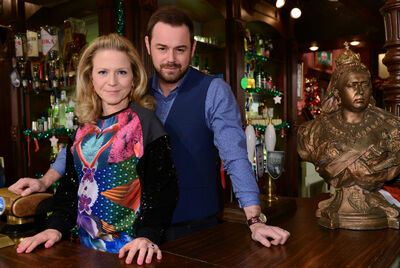 Video
Ad blocker interference detected!
Wikia is a free-to-use site that makes money from advertising. We have a modified experience for viewers using ad blockers

Wikia is not accessible if you've made further modifications. Remove the custom ad blocker rule(s) and the page will load as expected.