Beales


Information
Address
6-8 Turpin Road
Owned by
Ian Beale and Jane Beale
Used for
Restaurant
Beales (stylised as BEALES) is a restaurant located in the heart of Albert Square which is owned by Ian Beale. Initially, the restaurant was called 'Ian Beale @ Le Square'. However, Ian was short of money and took a loan out from Janine Butcher who renamed it to Scarlett's on the opening, after her daughter. Ian re-named it Beales and ran it until February 2016, when he sold it to Costmart to pay for Bobby Beale's boarding school tuition fees.
Storylines
Scarlett's
In July 2013, Scarlett's' employee Jean Slater remembers she has left her handbag at the restaurant. Jean, Shirley Carter and Bianca Butcher go back to the restaurant to look for her handbag. However, they are sidetracked when they find Ian's alcohol. Shirley knocks over a naked flame and cause the restaurant to catch fire. The fire is small and is put out quickly, however, due to the smoke, the restaurant's water sprinklers go off, flooding the restaurant.
BEALES
When Jane Beale arrives back in Walford in 2014, she and Ian decide to become business partners. Jane begins planning to rebrand Scarlett's and proposes renaming the restaurant. The pair settle on 'BEALES' and the restaurant is soon renamed. A relaunch is planned to unveil the new look restaurant including a brand new interior.
Staff (Restaurant)
Current Staff
Old Staff
Previous uses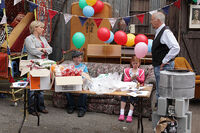 Moon and Sons Antiques Emporium
"Moon and Sons" was was an antiques emporium originally ran by Eddie Moon, Anthony Moon and Tyler Moon. When Anthony got into gambling problems with Derek Branning, he was forced out of the square. Thus leading to the closure of Moon and Sons.
Gallery
Moon & Sons Antiques Emporium
Le Square
Scarlett's
Beales