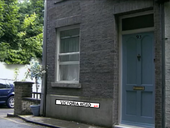 93 Victoria Road is a house on Victoria Road. The only known residents were Marge Green and her bed-ridden mother in 1989-1990. Right of the house is Dexter Roger's & Associates (Solicitors). The postal code for this house is E20 5RT.
History
This house was redecorated in 2010 as 27 Graham Street where Naz lived on E20 Series 2.
Ad blocker interference detected!
Wikia is a free-to-use site that makes money from advertising. We have a modified experience for viewers using ad blockers

Wikia is not accessible if you've made further modifications. Remove the custom ad blocker rule(s) and the page will load as expected.