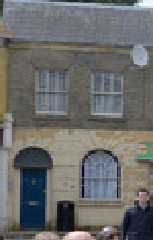 57 Turpin Road is a house converted into 2 flats located on Turpin Road, Walford.
History
Heather Trott lived in the bottom flat (57A) with her fiancé Andrew Cotton and her son George Trott. Heather is later murdered by Ben Mitchell. Andrew and George later move out, leaving the house unoccupied. Rainie Cross also lived here for a short time in 2014, before being kicked out by the owner.
Deaths
There has been one death within this house.
Current Residents
Unknown
Past Residents
Gallery
Ad blocker interference detected!
Wikia is a free-to-use site that makes money from advertising. We have a modified experience for viewers using ad blockers

Wikia is not accessible if you've made further modifications. Remove the custom ad blocker rule(s) and the page will load as expected.