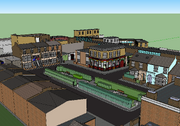 The 2016 EastEnders walkthrough map was created by Jaike Ghosh. It was released 21 July 2016. EastEnders fan can explore the EE set as well as the interior of The Queen Victoria, The Arches, Deals on Wheels and more. It can be purchased from here.
Below are some preview images.
Gallery
See also
Ad blocker interference detected!
Wikia is a free-to-use site that makes money from advertising. We have a modified experience for viewers using ad blockers

Wikia is not accessible if you've made further modifications. Remove the custom ad blocker rule(s) and the page will load as expected.