1985 was EastEnders' first year. The series premiered on 19th February, created by Julia Smith and Tony Holland.
Main characters
Production
Conception and preparations for broadcast
     'I feel like I've been on EastEnders all my life and now I'm playing King Lear.' - Ian Holloway
In March 1983, under two years before EastEnders' first episode was broadcast, the show was a vague idea in the mind of a handful of BBC executives, who decided that what BBC-One needed was a popular bi-weekly drama series that would attract the kind of mass audiences that ITV was getting with Coronation Street. The first people to whom David Reid, then head of series and serials, turned were Julia Smith and Tony Holland, a well-established producer/script editor team who had first worked together on Z-Cars. The outline that Reid presented was vague: two episodes a week, 52 weeks a year. After the concept was put to them on 14 March 1983, Smith and Holland then went about putting their ideas down on paper; they decided it would be set in the East End of London. Granada Television gave Smith unrestricted access to the Coronation Street production for a month so that she could get a sense how a continuing drama was produced.
There was anxiety at first that the viewing public would not accept a new soap set in the south of England, though research commissioned by lead figures in the BBC revealed that southerners would accept a northern soap, northerners would accept a southern soap and those from the Midlands, as Julia Smith herself pointed out, did not mind where it was set as long as it was somewhere else. This was the beginning of a close and continuing association between EastEnders and audience research, which, though commonplace today, was something of a revolution in practice.
The show's creators were both Londoners, but when they researched Victorian squares, they found massive changes in areas they thought they knew well. However, delving further into the East End of London, they found exactly what they had been searching for: a real East End spirit—an inward-looking quality, a distrust of strangers and authority figures, a sense of territory and community that the creators summed up as "Hurt one of us and you hurt us all".
When developing EastEnders, both Smith and Holland looked at influential models like Coronation Street, but they found that it offered a rather outdated and nostalgic view of working-class life. Only after EastEnders began, and featured the characters of Tony Carpenter and Kelvin Carpenter, did Coronation Street start to feature black characters, for example. They came to the conclusion that Coronation Street had grown old with its audience, and that EastEnders would have to attract a younger, more socially extensive audience, ensuring that it had the longevity to retain it for many years thereafter. They also looked at Brookside but found there was a lack of central meeting points for the characters, making it difficult for the writers to intertwine different storylines, so EastEnders was set in Albert Square.
A previous UK soap set in an East End market was ATV's Market in Honey Lane between 1967 and 1969. However, this show, which graduated from one showing a week to two in three separate series (the latter series being shown in different time slots across the ITV network) was very different in style and approach to EastEnders. The British Film Institute described Market In Honey Lane thus: "It was not an earth-shaking programme, and certainly not pioneering in any revolutionary ideas in technique and production, but simply proposed itself to the casual viewer as a mildly pleasant affair." EastEnders, while also featuring an East End street market, would be very different in its approach and impact.
The target launch date was originally January 1985. Smith and Holland had eleven months in which to write, cast and shoot the whole thing. However, in February 1984, they did not even have a title or a place to film. Both Smith and Holland were unhappy about the January 1985 launch date, favoring November or even September 1984 when seasonal audiences would be higher, but the BBC stayed firm, and Smith and Holland had to concede that, with the massive task of getting the Elstree Studios operational, January was the most realistic date. However, this was later to be changed to February.
The project had a number of working titles—Square Dance, Round the Square, Round the Houses, London Pride and East 8. It was the latter that stuck (E8 is the postcode for Hackney) in the early months of the creative process. However, the show was renamed after many casting agents mistakenly thought the show was to be called Estate, and the fictional postcode E20 was created, instead of using E8. Julia Smith came up with the name Eastenders after she and Holland had spent months telephoning theatrical agents and asking "Do you have any real East Enders on your books?" However, Smith thought "Eastenders" "looked ugly written down" and was "hard to say", so decided to capitalize on the second 'e'. 
Initial character creation and casting
After they decided on the filming location of BBC Elstree Centre in Hertfordshire, Smith, and Holland set about creating the 23 characters needed, in just 14 days. They took a holiday in Playa de Los Pocillos, Lanzarote, and started to create the characters. Holland created the Beale and Fowler family, drawing on his own background. His mother, Ethel Holland, was one of four sisters raised in Walthamstow. Her eldest sister, Lou, had married a man named Albert Beale and had two children, named Peter and Pauline. These family members were the basis for Lou Beale, Pete Beale, and Pauline Fowler. Holland also created Pauline's unemployed husband Arthur Fowler, their children Mark Fowler and Michelle Fowler, Pete's wife Kathy Beale and their son Ian Beale. Smith used her personal memories of East End residents she met when researching Victorian squares. Ethel Skinner was based on an old woman she met in a pub, with ill-fitting false teeth, and a "face to rival a neon sign", holding a Yorkshire Terrier in one hand and a pint of Guinness in the other. Other characters created included Jewish doctor Harold Legg, the Anglo-Cypriot Osman family, Ali Osman, Sue Osman and baby Hassan Osman, black father and son, Tony Carpenter and Kelvin Carpenter, single mother Mary Smith and Bangladeshi couple Saeed Jeffery and Naima Jeffery. Jack, Pearl and Tracey Watts were created to bring "flash, trash, and melodrama" to the Square (they were later renamed Den Watts, Angie Watts and Sharon Watts). The characters of Andy O'Brien and Debbie Wilkins were created to show a modern couple with outwardly mobile pretensions, and Lofty Holloway to show an outsider; someone who did not fit in with other residents. It was decided that he would be a former soldier, as Holland's personal experiences of ex-soldiers were that they had trouble fitting into society after being in the army. When they compared the characters they had created, Smith and Holland realized they had created a cross-section of East End residents. The Beale and Fowler family represented the old families of the East End, who had always been there. The Osmans, Jefferys, and Carpenters represented the more modern diverse ethnic community of the East End. Debbie, Andy, and Mary represented more modern-day individuals.
Once they had decided on their 23 characters, they returned to London for a meeting with the BBC. Everyone agreed that EastEnders would be tough, violent on occasion, funny and sharp—set in Margaret Thatcher 's Britain—and it would start with a bang (namely the death of Reg Cox ). They decided that none of their existing characters were wicked enough to have killed Reg, so a 24th character, Nick Cotton was added to the line-up. He was a racist thug, who often tried to lead other young characters astray. When all the characters had been created, Smith and Holland set about casting the actors for the show.
Final preparations
Over the next few months, the set was growing rapidly at Elstree, and a composer and designer had been commissioned to create the title sequence. Simon May wrote the theme music and Alan Jeapes created the visuals. The visual images were taken from an aircraft flying over the East End of London at 1000 feet. Approximately 800 photographs were taken and pieced together to create one big image. The credits were later updated when the Millennium Dome was built.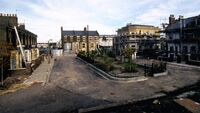 The launch was delayed until February 1985 due to a delay in the chat show Wogan, that was to be a part of the major revamp in BBC1's schedules. Smith was uneasy about the late start as EastEnders no longer had the winter months to build up a loyal following before the summer rating lull. The press were invited to Elstree to meet the cast and see the lot, and stories immediately started circulating about the show, about a rivalry with ITV (who were launching their own market-based soap, Albion Market) and about the private lives of the cast.
Viewing figures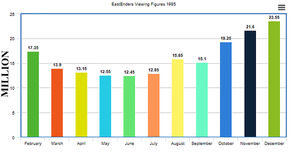 Anticipation and rumor grew in equal measure until the first transmission at 7 p.m. on 19 February 1985. Both Holland and Smith could not watch; they both instead returned to the place where it all began, Albertine's Wine Bar on Wood Lane. The next day, viewing figures were confirmed at 17 million. The reviews were largely favorable, although, after three weeks on air, BBC1's early evening share had returned to the pre-EastEnders figure of seven million, though EastEnders then climbed to highs of up to 23 million later on in the year. Following the launch, both group discussions and telephone surveys were conducted to test audience reaction to early episodes. Detailed reactions were taken after six months and since then regular monitoring was conducted.
Episodes
Storylines
to be added.
Who lives where
Albert Square
Walford Towers